Isagenix Plant-Based Products Are Here!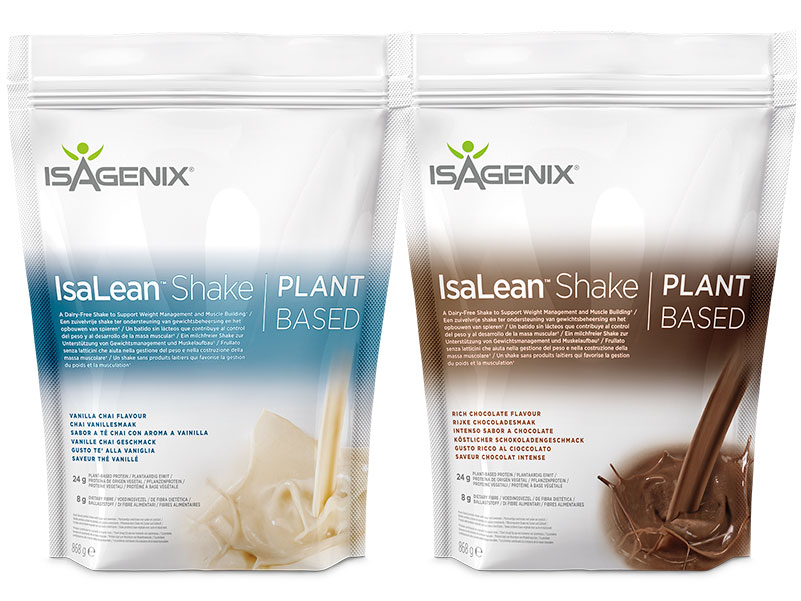 The wait is finally over! We know that many Isagenix customers have been eagerly anticipating the release of our new line of plant-based Isagenix meal-replacement shakes, supplements, and snacking options. Isagenix is eager to share this new vegan-friendly product line that maintains the integrity and results associated with its traditional, whey-based products. Our plant-based dieting products will help you burn fat, sculpt lean muscle, feel fuller longer, and avoid incorporating dairy into your diet.
What products are available?
Among the products in the Isagenix Plant-Based line are a specially formulated and vegan-friendly IsaLean Shake, and two delectable snacking options; Harvest Thins and Isagenix Snacks in Wild Berry. These products are ideal for customers with food allergies and sensitivities, those with dietary restrictions, and those seeking to reduce their dairy intake on a daily basis.
Dairy Free IsaLean Shakes
The Plant-Based IsaLean shake comes in both Vanilla Chai and Rich Chocolate flavours. These shakes contain 24 grams of carefully formulated plant-based protein derived from both peas and rice. This unique protein blend offers you the same nutritional benefits and complete amino acid chain as our whey-based products without having to worry about consuming dairy. You can easily prepare these delicious shakes by mixing the formula with water for a fulfilling meal substitution that promotes sustained nourishment all day long.
Harvest Thins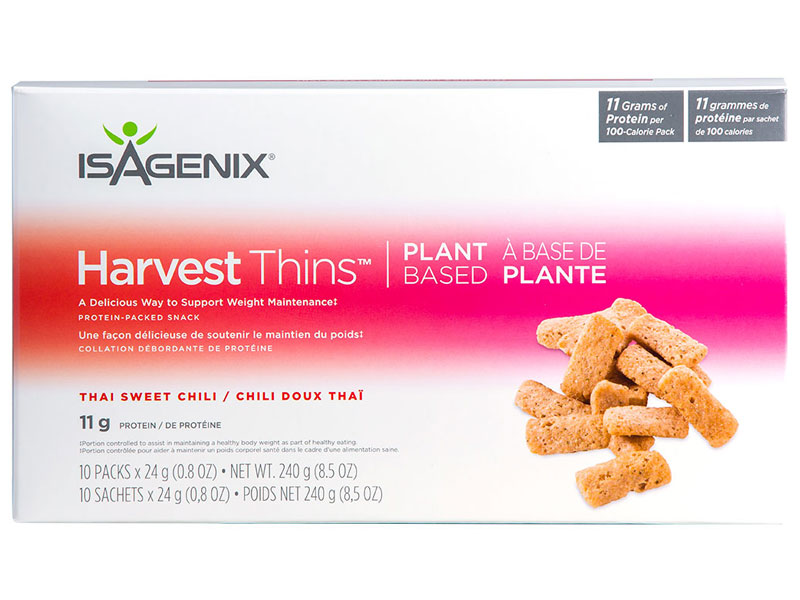 Harvest Thins have emerged as a plant-based alternative to the Isagenix Whey Thins line of snack products. Harvest Thins come in 100-calorie snack packets that are convenient for on-the-go snacking and fighting off hunger between mealtimes.
These Thai Sweet Chilli flavoured snack bites combine sweet and heat for a delicious snacking treat. Each portion contains 11 grams of the same plant-based protein sources used for our IsaLean shakes. Harvest Thins are an Isagenix-approved snacking option appropriate for Cleanse Days. They will satisfy your hunger and fuel your body to continue burning fat and sculpting lean muscle all day long.
Dairy Free Snacks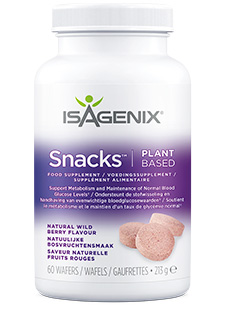 Isagenix Snacks contain a balance of high-quality plant based protein, carbohydrates and fat to nourish your body. These wafer like snacks support your metabolism and maintain normal blood glucose levels.
These are cleanse day friendly and the dairy-free natural wild berry flavour is amazing! Each tub comes with 60 chewable wafers (30 servings).
Are Isagenix Whey-Based Products Any More or Less Effective?
Scientific studies have revealed that both whey and pea proteins yield no significant differences in their capacity to sustain and build healthy muscle tissue. Because of a growing number of people who demonstrate difficulty digesting dairy or who have dietary restrictions that prohibit dairy intake, Isagenix has decided to diversify its product line in order to meet the needs of more customers.
Isagenix Plant-Based options help dieters get the same results as if they were using whey protein. If you have been satisfied using Isagenix dairy-based products, you may still be interested in giving Isagenix Plant-Based a try. Our dairy-free formula tastes great and provides your body with all of the vital nutrients it needs to complete a healthy nutritional cleanse and reach your weight-loss goals.
Isagenix encourages all of its customers to sample this new line of Isagenix Plant-Based products. Isagenix is a brand that strives to provide great-tasting and healthy options that encourage successful dieting and that properly nourish the body. When you choose Isagenix, you know that you are investing in a brand that you can trust to get you the results you've been striving to achieve. Isagenix Plant-Based products will ensure that your body receives all of the essential macronutrients and vitamins that it needs to burn stubborn fat, build lean muscle, and feel great as a result.