Can Meal Replacement Shakes Help You Lose Weight?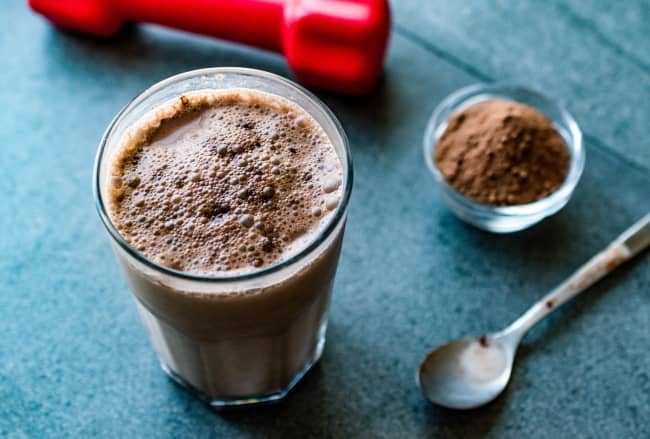 Meal replacement shakes provide a quick serving of nutrition and are especially convenient on busy days. But can meal replacement shake help you lose weight?
Here, we'll look at what science has to say about meal replacement shakes and how the right shake may be an effective way to improve your weight loss efforts.
What Are Meal Replacement Shakes?
Meal replacement shakes are designed to act as a quick, healthy alternative to a traditional breakfast, lunch, or dinner. Generally, they provide a range of nutrients and protein with minimal calories.
Some meal replacement shakes come pre-prepared in a bottle or can, while others come as a powder that gets mixed with water, ice, or milk. The nutrition content varies depending on the brand, but meal replacement shakes generally contain a mix of fibre, protein, fat, carbs, vitamins, and minerals. ‌
Can Meal Replacement Shakes Help With Weight Loss?
Do meal replacement shakes work for weight loss? Science says they can, but it depends on the quality of the shake and various lifestyle factors.
Calorie reduction is a key aspect of weight loss. Since meal replacement shakes often contain maximum nutrition with minimal calories, they can assist weight loss efforts by providing a decrease in total calorie consumption.
Research demonstrates that meal replacements can be a safe, effective way to lose weight and maintain it. Evidence shows that dietary interventions that incorporate meal replacements resulted in greater weight loss, compliance, nutrient intake, and overall satisfaction.
When combined with lifestyle changes and other weight-loss strategies, meal replacement shakes can be a great tool for losing weight and getting healthier.
How Can Meal Replacement Shakes Help With Weight Loss?
Meal replacement shakes can help with weight loss in a variety of ways. Pros of meal replacement shake include:
Eliminates the Guesswork of Healthy Eating – It can be stressful and overwhelming to decide which diet will help you lose the most weight and provide the nutrition you need. Meal replacement shakes take the guesswork out of planning healthy meals and snacks.
Long-Term Results – If something is easy to stick with, there is a higher chance you can make it part of your lifestyle for the long term.
Convenience – For so many people, busy lifestyles get in the way of healthy eating. Meal replacement shakes provide an almost instant way to enjoy a dose of nutrition, making it possible to consume a healthy meal on the busiest days. Meal replacement shakes can offer balanced nutrition in each serving – no shopping, planning, or calorie counting is needed.
May Help You Avoid Unhealthy Meals – Meal replacement shakes give you a healthy meal option vs fast food if you need a quick, healthy meal on busy days.
Versatility – Aside from the traditional route of blending a shake with water and ice, there are endless add-in options that can keep your shakes from getting boring. Ingredients like shredded coconut, almond butter, flax seeds, bananas, frozen berries, cocoa powder, cinnamon, and coconut milk can add additional nutrients to your shake and make it even more satisfying. Here are some of our favourite IsaLean Shake Recipes.
Protein – The protein in high-quality meal replacement shakes provides the body with the amino acids needed for building long, lean muscle and keeping you satisfied until your next meal. Protein also plays a key role in weight loss.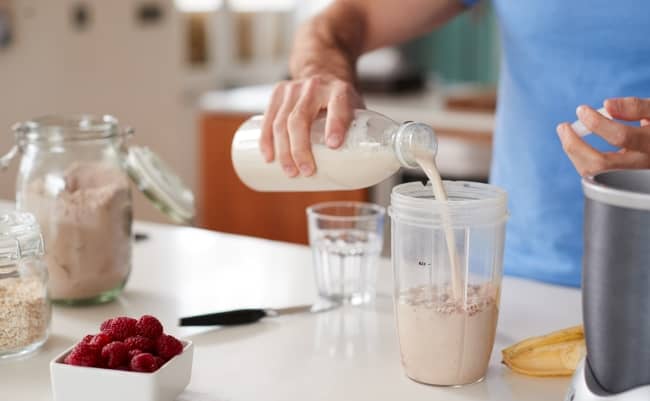 Are There Any Cons of Meal Replacement Shakes?
Although there are a variety of benefits of meal replacement shakes, there are some important aspects to be aware of.
Not a Magic Fix – Meal replacement shakes can be healthy and convenient, but they are not a magic fix for weight loss. If you consume a meal replacement shake for breakfast and eat processed food the rest of the day, it is unlikely you will feel your best. Being healthy requires commitment, discipline, and effort. While meal replacement shakes can be a great complement to a healthy lifestyle, other positive changes need to be made to achieve optimal health.
Some Brands Are Unhealthy – Just because a product claims to be healthy doesn't mean it is – not all meal replacement shakes are created equal. It is crucial to read ingredient labels on meal replacement shakes carefully. Some brands are full of additives, preservatives, refined sugar, excess calories, and artificial flavours.
Some Shakes Fall Short on Nutrients – If a shake is replacing a meal, it must contain the right ratio of calories and macronutrients to provide a balanced meal substitute. Many brands fall short of fibre, protein, or vitamins and minerals.
Can A Protein Shake Replace a Meal?
Meal replacement shakes are meant to complement a balanced diet, not replace it. While meal replacement shakes can be part of a healthy, balanced diet, relying on only meal replacement shakes would rob your body of the range of nutrients, antioxidants, vitamins, and minerals it also needs from whole foods.
Replacing one or two meals a day with meal replacement shakes – on Cleanse Days – still ensures your body receives a variety of nutrition through whole foods.
Meal Replacement Shakes for Men vs. Women
Most meal replacement shakes can be ideal for both men and women. However, men typically have more muscle mass than women, meaning their daily protein intake needs to be higher. Meal replacement shakes are a convenient way for both men and women to ensure they are getting enough protein.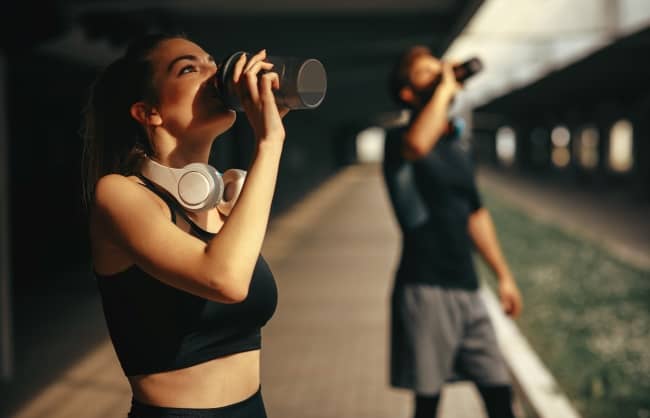 What Is The Best Meal Replacement Shake?
To find the best meal replacement shake for weight loss, opt for a meal replacement shake with:
At least 3 grams of fibre per serving
A minimum of 15 grams of high-quality protein per serving
No corn syrup
An array of vitamins and minerals
No hydrogenated oils
No artificial flavours or sweeteners
If you are looking for the best meal replacement shake, Isagenix IsaLean Shakes are nutritional powerhouses. These professionally formulated shakes are packed with vitamins, minerals, enzymes, and lean protein to help fight cravings, maximise your body's fat-burning abilities, and support lean muscle growth – all with minimal calories.
Benefits of IsaLean Shakes include:
24 grams of high-quality, undenatured protein sourced from grass-fed New Zealand cows
Healthy fats
Omega 3s
Just 240 calories per shake
21 vitamins and minerals
The superior amino acid profile
Delicious flavours such as Vanilla, Strawberry, and Dutch Chocolate
Complex carbohydrates
Excellent source of fibre (each serving provides 8 grams of dietary fibre)
Enzymes to support healthy digestion
Gluten-free
Soy-free
No casein, fillers, or preservatives
Free of artificial colours, sweeteners, and flavours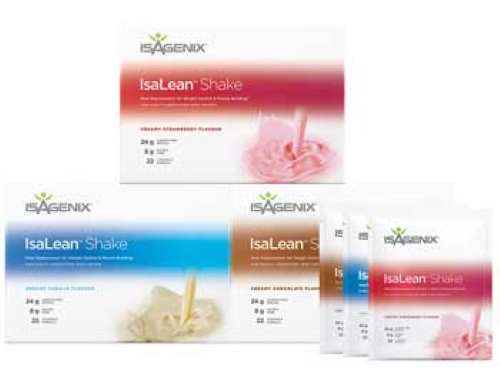 Have You Tried Meal Replacement Shakes for Weight Loss?
If you are trying to shed some pounds, Isagenix Meal Replacement Shakes are a proven way to support your weight loss efforts.
When incorporated into a healthy, balanced diet, IsaLean Shakes provide high-quality nutrition so you can easily keep progressing toward your weight loss goals.
Have questions on how meal replacement shakes can help you lose weight? Feel free to reach out to us for personalised advice and product recommendations.