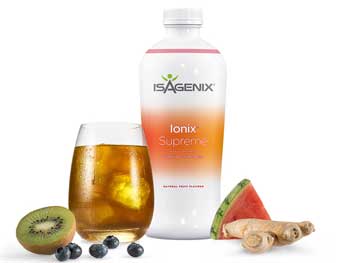 Isagenix Ionix Supreme
Would you like more energy, less stress, and better physical and mental performance? Isagenix Ionix Supreme is the solution. This scientifically formulated herbal tonic utilises over 100 adaptogenic herbs and select botanicals.
Find out more by
downloading the product information guide here
.
Lowest Price
£40 £34 (Save 15%)
Clicking 'Buy Now' will direct you to the 100% secure Isagenix UK website, where you will complete the purchase at the lowest guaranteed prices. All United Kingdom orders are shipped fast from the London distribution centre and most arrive in 3-5 days. All first time orders have a 30 day money back guarantee.
Ionix Supreme – New Powerful Formula
(946 ml per bottle)
Developed as an all-natural stress reliever, Isagenix Ionix Supreme is a natural tonic loaded with over 100 specially selected herbs, botanicals, and other nutrients proven to lower stress levels, increase energy, and promote a healthier, happier you.
Now featuring a new supercharged formula with even more plant-based nutrients, the new and improved Ionix Supreme provides your body and mind with a wealth of benefits.
Benefits of Isagenix Ionix Supreme
The unique combination of ingredients within Ionix Supreme has been formulated by top scientists and nutritionists to help:
Boost energy
Reduce stress
Guard your body against damaging free radicals
Get your mind and body in balance
Improve post-workout recovery times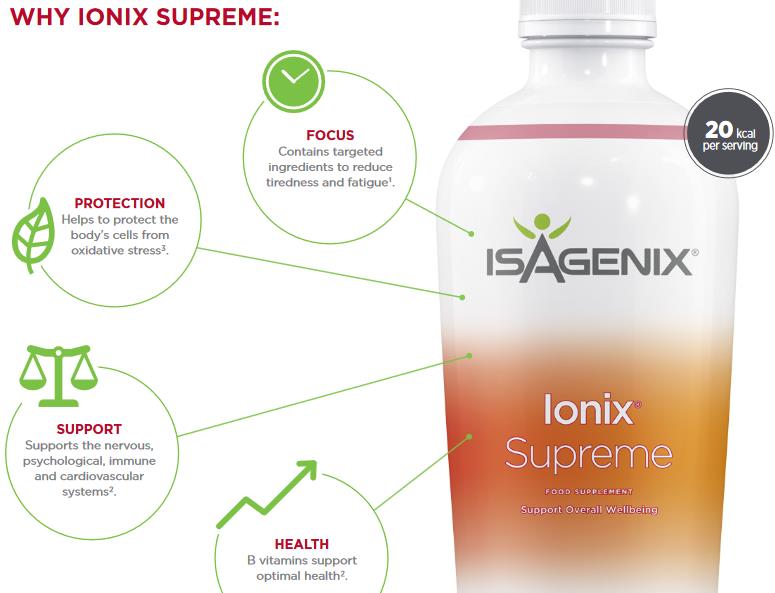 For the best results, Ionix Supreme should be used alongside other Isagenix products as part of a comprehensive nutritional cleansing programme.
Antioxidants and Adaptogenic Herbs – A Proven Combination
The wide assortment of antioxidants found in Isagenix Ionix Supreme help protect the body from damaging toxins, free radicals, and other impurities. Meanwhile, Ionix Supreme's powerful blend of adaptogenic herbs help the body fight both fatigue and stress. Used in Chinese medicine for centuries, the herbs work synergistically within your body and provide you with the mental and physical boost you need to perform at your absolute best.
What Makes Ionix Supreme So Unique?
There are a tonne of energy drinks on the market these days, but Ionix Supreme is much more than an energy drink. Rather than using stimulants with negative side effects, such as caffeine and taurine, to provide a quick energy fix, Ionix Supreme ustilises a scientifically proven blend of powerful and all-natural adaptogenic herbs to neutralise stress, boost energy levels, and help get your body into perfect balance.
Much more than a quick energy fix, Ionix Supreme can be used every day as a long-term stress reliever and gentle cleansing solution.
Adaptogenic Herbs – What Are They?
Ionix Supreme contains herbs like wolfberry, rhodiola rosea, ashwagandha, and bacopa, which are largely unknown by the masses. However, these herbs have proven adaptogenic properties, which simply put, means they're able to create a stress response and help your body tackle the stress and fatigue associated with our modern, busy lifestyles.
Using Ionix Supreme as Part of a Nutritional Cleansing Programme
We recommend using Ionix Supreme along with other proven Isagenix products as part of a comprehensive nutritional cleansing programme. Although you can experience significant results using Ionix Supreme all by itself, we recommend the Isagenix 30 Day Weight Loss System in order to enjoy all of the benefits nutritional cleansing has to offer. Ionix Supreme is included in this comprehensive programme along with a variety of other products serving as proven pillars of bodily health.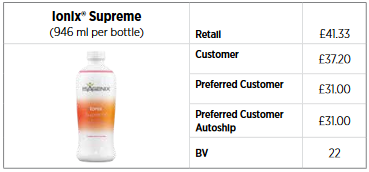 Isagenix Ionix Supreme can be purchased for £41.33 per bottle at full retail prices, or sign up with us (UK's #1 distributor) and pay just £31 per bottle. Each bottle is 946ml.
Choose your preferred purchasing option by clicking on the button below:

☆☆☆☆☆

based on

0

reviews.
Overall rating:
Save
Save