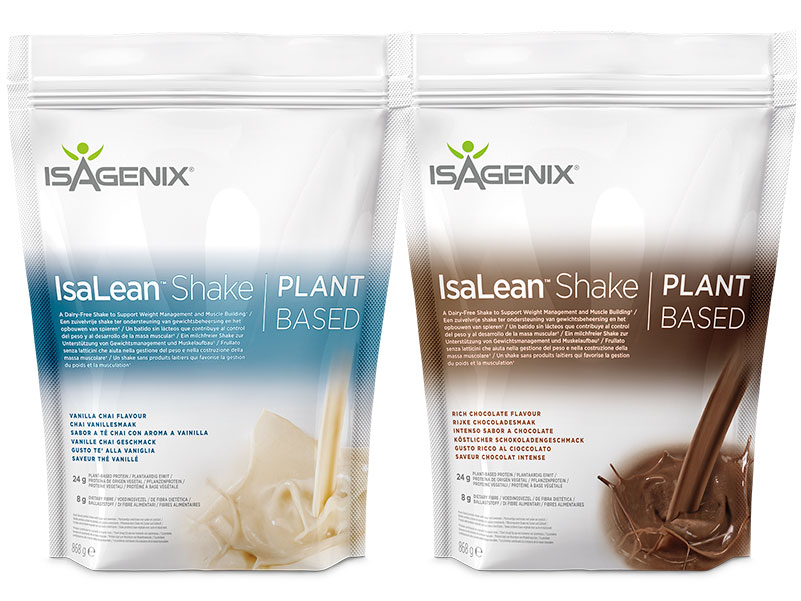 Isagenix Dairy Free (Plant Based) IsaLean Shake
Isagenix Shakes emerge from a team of nutritional health specialists who have conducted careful research in order to create the perfect nutritional blend that will give you results. Our shakes include all of the ideal ingredients to offer your body energy, stimulate weight loss, and promote holistic health and wellness.
Formerly, the Isagenix Weight-Loss System was only available using a dairy-based, whey-protein formula. However, Isagenix now has designed a new series of plant-based products with dietary restrictions and dairy sensitivities in mind. These products are created using an effective combination of both pea and rice proteins. Now, you can enjoy all of the advantages of Isagenix weight-loss products dairy free!
For more information download the dairy free shakes product information guide.
Lowest Price
£43.94 £32.95 (Save 25%)
Clicking 'Buy Now' will direct you to the 100% secure Isagenix UK website, where you will complete the purchase at the lowest guaranteed prices. All United Kingdom orders are shipped fast from the London distribution centre and most arrive in 3-5 days. All first time orders have a 30 day money back guarantee.
Why Are These Shakes So Amazing?
(14 servings per box)
Isagenix Plant-Based Shakes are nutritionally-potent meal replacements filled with high-quality vegetable protein, carbohydrates for energy, and healthy fats and vitamins in order to provide nourishment and maintain your body at optimum health.
These shakes help you build lean muscle, lose weight, and stay active. We use a proprietary formula of premium proteins, dietary fibre, and 21 vitamins and minerals that will fuel an active lifestyle and assist you in reaching your goals.
Isagenix Plant-Based Shakes taste great, and they are currently available in two delicious flavours: Vanilla Chai and Rich Chocolate. You can prepare the shakes on their own, or you can combine them in a blender with additional fruits and leafy greens for added flavour and nutritional density.
The Isagenix signature shake blend is designed to keep you fuller longer, curb cravings between meals, and promote a speedier metabolism. You will feel great as your body replenishes itself with a healthy combination of nourishing macronutrients and vitamins found in every sip. The mixture of fats, proteins, carbohydrates, enzymes, and minerals in Isagenix Plant-Based Shakes ensures optimum health and nutrition while you lose weight.
Isagenix Dairy-Free Shakes include 24 grams of high-quality vegetarian protein, sourced from brown rice and pea plants. Through a unique process, they carefully extract these proteins in order to offer you a quality product that your body will absorb efficiently. What's more, their carefully-formulated, plant-based protein offers a more complete amino acid chain in comparison to products offered through other brands.
Isagenix shakes have been developed through research to provide your body with the proper distribution of macronutrients in a low-calorie dosage. Within the first week of taking the shakes, your body will adapt and require a lower daily caloric intake while it also prioritizes burning fat. All of the benefits of Isagenix nutritional shakes can be available to you now at an affordable cost using either our new plant-based protein or our traditional Isagenix whey-protein blend.
How Many Shakes Should I Drink Each Day?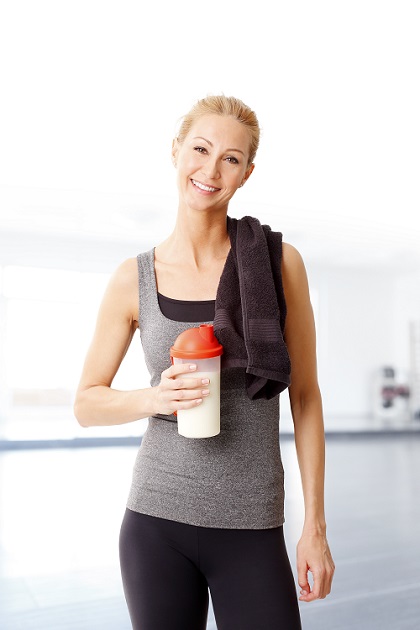 Your daily shake intake will depend on your nutritional goals. If you are planning on using the shakes for weight maintenance, you can simply replace one meal per day by mixing Isagenix shake packets with water. For those seeking weight loss, the recommendation is to replace two meals per day with Isagenix shakes. There is no need to mix with milk or any liquids other than water. All of the flavour and nutritional value is already inherently formulated into the water-soluble shake mixes themselves.
Isagenix Plant-Based protein shakes contain a carefully engineered formula of amino acids that promote superior muscle maintenance as well as a proper glycemic response for proper absorption of every nutrient. Because of their low glycemic load, the shakes are filling, and they help curb hunger throughout the day.
Health Benefits
Because the formula for IsaLean Shakes has been perfected throughout years of careful research and trials, they offer a premium package of health benefits.
Tip: Want to learn more about the benefits of plant protein over whey protein? We recommend this article.
1. Appetite Control
The unique nutritional formula within each shake will properly nourish your body as a complete meal replacement. Because it is dense in both proteins and nutrients, you will feel satiated for much longer and have fewer urges to consume additional calories between meals.
2. Reshape Your Body
The protein complex provided in our plant-based shakes will stimulate your body to prioritise building lean muscle. While the shakes work to build and repair muscle tissue, they also increase your body's capacity to burn fat. Not only will you shed pounds, but you will unveil lean, toned muscle tissue that you haven't seen in years!
3. Regulate Your Blood Sugar
Because of the carefully-formulated glycemic load of Isagenix Nutrition Shakes, your blood-sugar levels will remain regulated throughout the day. This will maintain a state of homeostasis within your body, which creates fewer stressors for your internal organs and helps your body reach your desired body weight more rapidly.
4. Avoid Excess Gluten
Those with food allergies or sensitivities will be happy to know that Isagenix Plant-Based Shakes are created using a gluten-free formula. Studies have shown that diets including excessive amounts of gluten are known for restricting nutrient absorption as well as causing unwanted bloating and inflammation. Regardless of allergies or sensitivities, our gluten-free shakes will keep you feeling great as you lose weight and increase muscle tone.
Don't Hold Back!
Isagenix Plant-Based Isalean Shakes offer you a superior nutritional blend that will assist you in reaching your fitness and weight-loss goals in addition to improving your overall wellness. Our shakes, when combined with a proper diet and exercise program, will help you see results. When you choose Isagenix, you are confiding in a quality brand that will improve how you look and feel on a daily basis. What are you waiting for? Get started today!
Buy Isagenix Dairy Free (Plant Based) IsaLean Shake Online
If you want to make the most out of every single workout and perform at your peak, purchase Isagenix Dairy Free (Plant Based) IsaLean Shake directly from us. All products are shipped from the local distribution centre in London, right to your door in no time at all. If you live in the UK, or other parts of Europe, it's time to join the Isagenix revolution and take your performance to a whole new level!
How Much Are They?
Each canister can be purchased for £44 at full retail prices, or sign up with us (UK's #1 distributor) and pay just £33 per canister.
Choose your preferred purchasing option by clicking on the button below:

☆☆☆☆☆

based on

0

reviews.
Overall rating: