Isagenix-Friendly Meal Recipes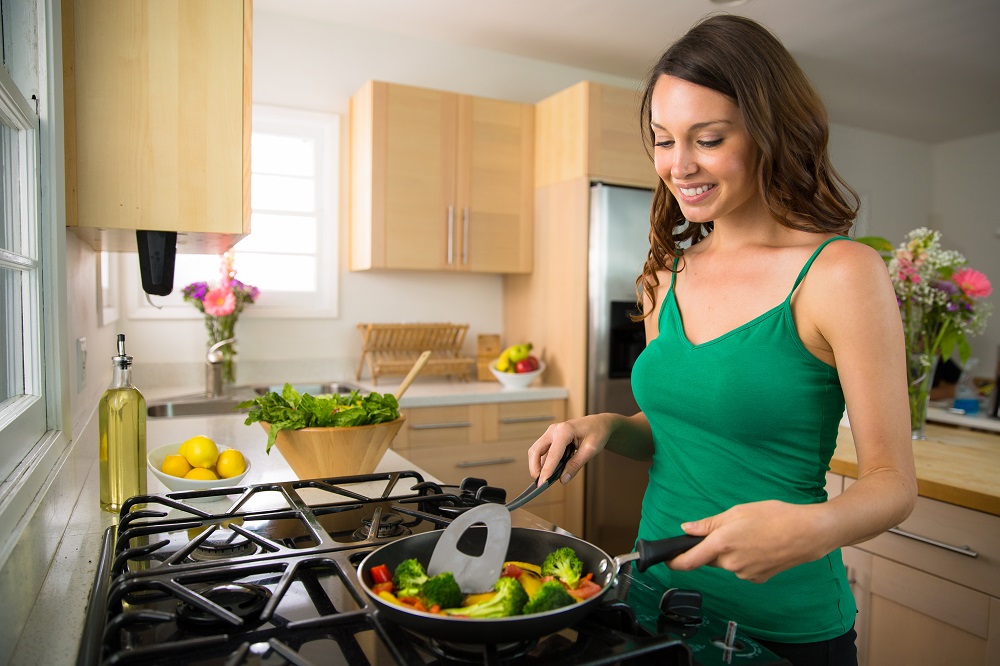 If you're following an Isagenix programme, you're allowed one 400-600 calorie meal on Shake Days. Since finding tasty low-calorie meals can be a real chore, here are some fantastic Isagenix recipes you're sure to love.
---
Enchiladas Verdes
This low-calorie version is lighter than the traditional enchiladas verdes yet equally delicious. With spicy tomatillo sauce, poached chicken breasts, sumptuous queso fresco, and white corn tortillas, it's the perfect meal for keeping your waistline slim and taking your taste buds to Mexico.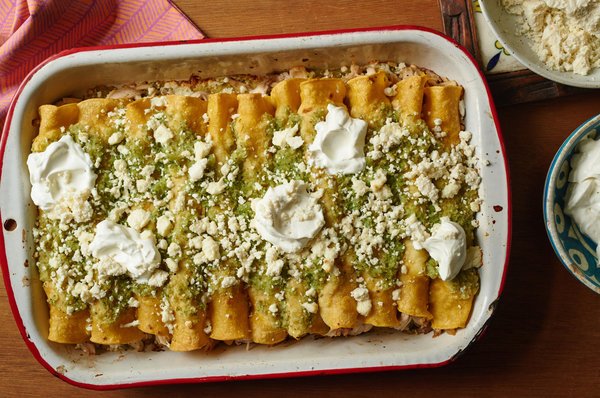 Ingredients:
Two skinless, boneless chicken breasts
16 medium white corn tortillas
One chopped onion
600 grams of jarred or homemade salsa verde
200 grams of queso fresco
200 grams of chopped spinach
Chopped cilantro or green onion to garnish
Sour cream (optional)
Directions:
First, preheat the oven to 200 degrees Celsius. Then, add half of the chopped onion and the chicken breasts into a large pot. Add a pinch of salt, fill the pot with water until the breasts are covered, and bring it to a boil. Let simmer for 15-20 minutes or until the chicken is fully cooked.
When the chicken is ready, remove it from the pot and let it cool. Then, shred the chicken, mix in the spinach and rest of the chopped onion, and add a dash of salt and pepper.
Now the fun begins. Spread a layer of salsa verde onto the bottom of a glass casserole dish to keep the tortillas from sticking. Then, warm the corn tortillas in the microwave to make them easier to roll. With the tortillas ready, one by one fill each tortilla with two tablespoons of the chicken mixture, roll them up, and place them in the bottom of the glass casserole dish.
Lastly, pour the salsa verde over the enchiladas, sprinkle some queso fresco on top, cover with foil, and let them bake in the oven for 30 minutes. After removing the enchiladas from the oven, you can add some spoonfuls of sour cream on top and sprinkle on a little more queso fresco as well to make each bite one to remember.
Pretty good for 220 calories per serving! Wouldn't you say?
---
Baked Falafel Pitas
Forget carb-loaded bread and processed, preservative-filled cold cuts. These healthy Middle Eastern-inspired chickpea cakes are packed full of flavour and great with some pita, feta, tomatoes, and more!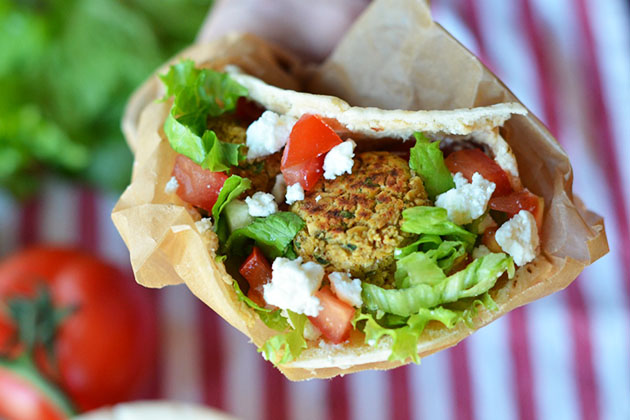 Ingredients:
12 small pitas
Four cloves of garlic
Three tomatoes, diced
Two cans of chickpeas
One head of lettuce
One block of crumbled feta cheese
Four tablespoons of Tahini
Three tablespoons of chopped parsley
Three tablespoons of flour
Three tablespoons of lemon juice
Two teaspoons of ground coriander
Two teaspoons of ground cumin
One teaspoon of chili powder
Pinch of salt and black pepper
Directions:
Toss the chickpeas parsley, spices, and flour into a standard food processor and pulse the ingredients until they're well blended. If you don't have a food processor, you can use a potato masher or fork to mash the chickpeas and then mix in the spices.
Preheat the oven to 205 degrees Celsius and then form small patties with the chickpea mixture. Ideally, they should be about 2.5 cm thick and 5 cm wide. Place the patties onto a lightly greased baking pan and place in the oven for approximately 15 minutes.
While the chickpea patties are cooking, mix the lemon juice and tahini together to have it ready along with the lettuce, tomato, and fetta toppings. When the patties are ready, place them in a pita, add plenty of toppings, and get ready to experience a healthy and convenient Mediterranean meal.
---
Penne with Roasted Veggies
While watching your carbs is a must, a little pasta won't hurt from time to time. This flavourful yet low-calorie, Isagenix-friendly dish is designed to satisfy your carb cravings and give you the boost you need. With tasty marinara sauce, cheesy penne pasta, roasted bell peppers, asparagus, zucchini, balsamic vinaigrette, and more, every bite is a moment spent in the Tuscan sun!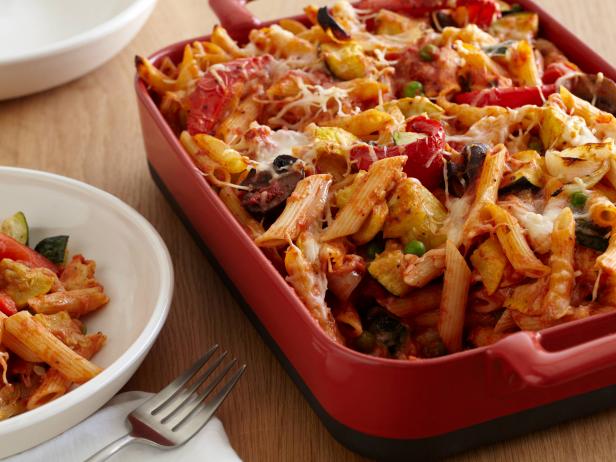 Ingredients:
400 grams gluten-free penne pasta
300 grams chopped asparagus
220 grams of shredded mozzarella (part-skim)
120 grams of ricotta (part-skim)
40 grams of grated Romano
40 grams of chopped parsley
Six cloves of smashed garlic
One jar of marinara sauce
One chopped red or yellow bell pepper
One chopped zucchini
One chopped fennel bulb
1/2 of a red onion, chopped
20mL of extra-virgin olive oil
20mL of balsamic vinegar
Five grams of dried basil
Five grams of dried oregano
Salt and pepper to taste
Directions:
Start by preheating the oven to 225C. Then, pull out a baking sheet and coat it with olive oil cooking spray. With that out of the way, go ahead and toss the chopped bell peppers, zucchini, asparagus, red onion, garlic, and fennel in the balsamic, olive oil, and herbs and seasonings. When they're nicely coated, arrange the veggies in a single layer on the baking sheet and place them in the oven to roast for 15-20 minutes.
While the veggies are roasting until they're nice and golden brown, bring salted water to a boil in a large pot and add the penne until it achieves an al dente finish. Then, with the pasta cooked and drained, combine the parsley, ricotta, and half of the Romano and mozzarella cheese until nicely mixed.
Now, coat a glass baking pan with olive oil spray and place about half of the roasted veggies down across the bottom. Then, add half of the pasta and spoon two large ladles of sauce over top. On top of the marinara, spoon a layer of the ricotta mixture and add the rest of the pasta, roasted veggies, and sauce in this order.
Like every good Italian dish, finish it by sprinkling on the rest of the Romano and mozzarella cheese. Then, cover it with foil and bake it in the oven for approximately 25 minutes. When done, the cheese should be melted in a delicious layer of awesomeness.
That's all there is to it. With an avalanche of Tuscan-inspired flavour and minimal calories, this dish is sure to become a weekly favourite.
---
Fiesta Lime Blackened Chicken Salad
Tasty and festive as can be, this Fiesta Lime Blackened Chicken Salad dish features succulent chicken breasts rubbed in a variety of spices and a smorgasbord of deliciousness with avocado, fresh corn, tomatoes, lime juice, and more. Don't let the ingredient list scare you. You likely have each spice in your cupboard and they truly put this dish over the top!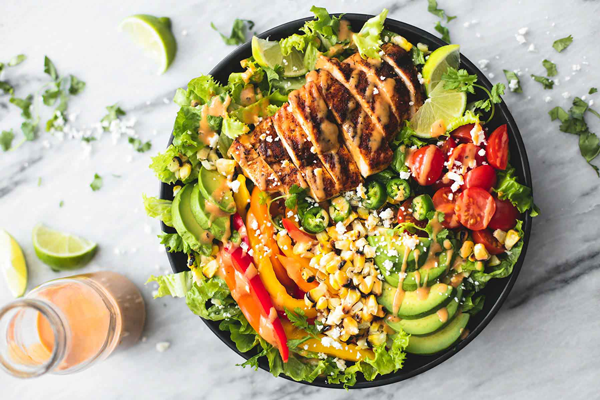 Ingredients:
Four skinless, boneless chicken breasts
One can of chickpeas
One diced avocado
One ear of corn, cooked and cut
Two minced cloves of garlic
Ten cherry tomatoes
1/2 of a red onion, finely diced
60 grams of chopped cilantro
Six grams of ground cumin
Five grams of paprika
Five grams of dried thyme
Four grams of kosher salt
Four grams of garlic powder
Three grams of cayenne pepper
Dash of red pepper flakes
20mL of lime juice
10mL of extra virgin olive oil
Olive oil spray
Directions:
Preheat the oven to 180C. Then, add the garlic, lime juice, oil, crushed red pepper, salt, half of the cumin, onion, chickpeas, corn, cilantro, and tomato. Mix well to make sure you get the right flavours in each and every bite.
After mixing the ingredients, warm up a skillet or frying pan until it's piping hot. While it's heating, mix the rest of the cumin with the garlic powder, cayenne, paprika, and thyme to create the spice rub. When the skillet is hot, give the chicken breasts a quick coating of cooking spray and roll each in the spice rub mixture.
Now it's time to cook the breasts. So, place each one in the skillet and give each side a quick one-minute sear. Then, place the skillet in the preheated oven and let the chicken bake for 10 minutes or so. When inserted in each breast, the meat thermometer should read at least 74C.
While the blackened chicken is cooking in the oven, dice the avocado and add it to the salad mixture you prepared earlier. When the chicken is done, slice it and add it on top of the fiesta salad mix. That's it. Now you can sit back, relax, and enjoy a fabulous meal with 60+ grams of protein and just a hair over 500 calories per serving (cerveza calories not included)!
---
Fresh Grilled Mint and Cucumber Salmon
This fresh and healthy dish can be whipped up in 10 minutes, making it a great low-calorie meal option any day of the week. With protein-packed salmon loaded with healthy omega-3 fatty acids and yogurt for improved digestion and immune system support, it tastes great and will help you feel great too.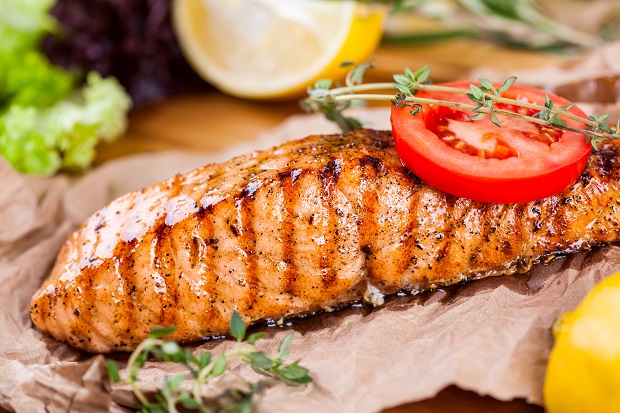 Ingredients:
Four boneless, skinless salmon fillets
A few sprigs of fresh mint
One cucumber, peeled and cubed
One cup of plain low-fat yogurt
One minced garlic clove
One teaspoon of dried mint or one tablespoon of finely chopped fresh mint
1/4 teaspoon of ground cumin
Pinch of salt and cracked black pepper
Directions:
Add the garlic, cumin, salt, and pepper to a mixing bowl and mash the blend with a wooden spoon to create a paste. Then, gently stir in the mint and yogurt, and then the cucumber. Set the mixture to the side.
Next, preheat the grill and brush vegetable oil onto the grate. Then, lightly brush both sides of the salmon fillets with olive oil and place them on the grill for a few minutes per side.
When the salmon is cooked to your liking, remove the fillets from the grill and spoon the cucumber mint sauce over top. Garnish with a fresh sprig of mint (or another favourite herb) and voila!