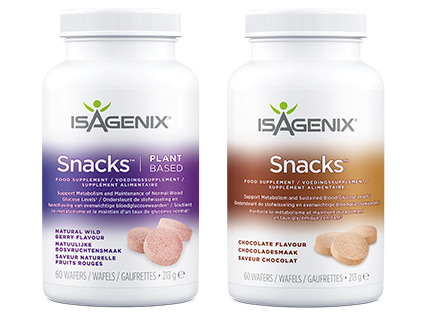 Isagenix Snacks
Need a delicious and nutritious energy boost?
Say hello to Isagenix Snacks! This chewable treat is available in tasty chocolate flavour, or dairy-free natural wild berry flavour. Loaded with protein and other nutrients, these are designed to be enjoyed on-the-go whenever you want. In other words, it's the perfect hunger-curbing treat!
Want to learn more?
Download the product information guide here
.
Lowest Price
£24.67 £18.50 (Save 25%)
Clicking 'Buy Now' will direct you to the 100% secure Isagenix UK website, where you will complete the purchase at the lowest guaranteed prices. All United Kingdom orders are shipped fast from the London distribution centre and most arrive in 3-5 days. All first time orders have a 30 day money back guarantee.
Isagenix Snacks are the perfect companion to help curb cravings
(30 servings per bottle)
An important component of the Isagenix Nutritional Programme, Isagenix Snacks contain a balance of high-quality whey and milk or plant based protein, carbohydrates and fat to nourish your body, and chromium to support your metabolism and maintain normal blood glucose levels.
A great choice for in between meals and on Cleanse Days.
Naturally supports metabolism.
Available in Natural Wild Berry Flavour for a delicious alternative for those on a plant based diet.
Benefits of Isagenix Snacks:
Tasty and fulfilling
Perfect Cleanse Day partner
Low in calories and high in premium protein
Fortified with ionic alfalfa for mineral support
Curbs cravings and hunger pangs
Helps build lean muscle

Perfect for Cleanse Days
Isagenix Cleanse Days can be challenging, especially when hunger pangs start setting in and you have a craving for something sweet. If you're hungry by the end of the day or simply feel like you need a little energy boost, Isagenix Snacks are the solution.
At only 15 calories a piece, these protein-packed chewable treats will help you stay satisfied and keep any unhealthy, high-kilojoule temptations at bay.
A Healthy, Delicious Snack Alternative
Isagenix Snacks are full of high-quality protein and work perfectly for curbing your appetite, which means you'll be less tempted to stray from your programme and snack on unhealthy foods. They're naturally flavoured as well, giving you delicious tastes without the artificial flavours, sweeteners, and fillers found in processed snacks.
If you want to lose weight, you need to throw those rice cakes and other flavourless snacks away and satisfy your sweet and salty desires. Isagenix Snacks solve this dilemma. These tasty nutritious treats are what you need to say goodbye to the diet blues for good.
Energy Fueling Carbohydrates
In addition to premium protein, Isagenix Snacks contains energy fueling carbohydrates to give you an effective dose of healthy carbs when you need it most. They also feature flax seeds and other natural fibre to aid in healthy digestion and provide you with a little extra energy to power through Cleanse Days. Isagenix Snacks may be small, but don't let their small size fool you. These little chewy chocolate or wild berry wafers pack quite a healthy punch.
How to Order Isagenix Snacks
Isagenix is new to the UK, but our products are flying off of warehouse shelves. Delivered from our local London warehouse right to your front door, you can order Isagenix Snacks online and wait for them to arrive in just a few days.
How Much is a Bottle of Isagenix Snacks?
Isagenix Snacks can be purchased in the following ways: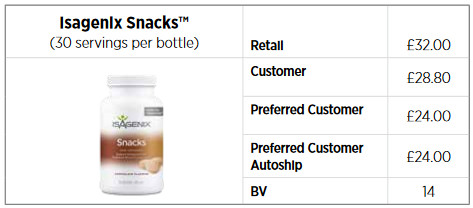 Each box of 60 wafers can be purchased for £32 at full retail prices, or sign up with us (UK's #1 distributor) and pay just £24 per box!
Choose your preferred purchasing option by clicking on the button below:

☆☆☆☆☆

based on

0

reviews.
Overall rating: